(323) 461-9999
6660 Sunset Blvd. #C
Hollywood CA 90028
Order Online
Get our app!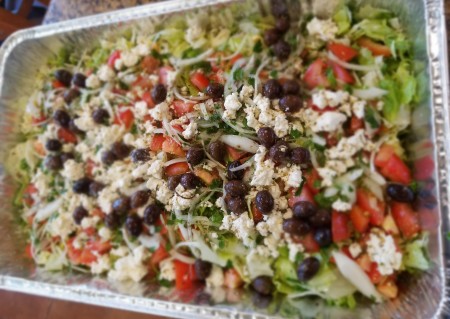 Greek Salad
Lettuce, tomato, topped with black olives, feta cheese, chopped onion and vinegar, oil. Half Tray for 8-10 people Full Tray for 25-30 people.
---
0 customers Greek Salad! Leave a review to let us know what you think.
You may also like
See those other items from Appetizers & Salads.
---
Lettuce, tomato, topped with diced chicken and our house dressing. Half Tray for 8-10 people Full Tray for 25-30 people

Half Tray

$42.00

Full Tray

$82.00

Freshly cooked steamed white rice. Half Tray for 8-10 people Full Tray for 25-30 people

Half Tray

$27.00

Full Tray

$52.00

Grape Leaves filled with rice, finely diced tomatoes, parsley, and lemon juice. Half Tray contains 25 Grape Leaves Full Tray contains 50 Grape Leaves

Half Tray

$52.00

Full Tray

$102.00
//See public/shared/blizzfullAnalytics.js BLIZZFULL_ANALYTICS.init(null, 'UA-29981188-3', true);