(323) 461-9999
6660 Sunset Blvd. #C
Hollywood CA 90028
Order Online
Get our app!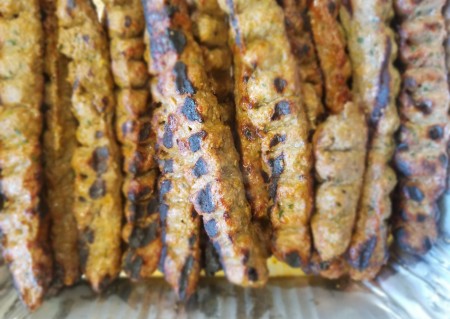 Kafta Kabobs
Flame broiled of ground beef and lamb. Seasoned with onion, parsley and spices. Half tray contains 15 kabobs Full tray contains 30 kabobs.
---
0 customers Kafta Kabobs! Leave a review to let us know what you think.
You may also like
See those other items from Main Courses.
---
Flame broiled seasoned lamb. Half tray contains 15 kabobs Full tray contains 30 kabobs

Half Tray

$115.00

Full Tray

$230.00

Flame broiled ground beef in pita. Half tray contains 15 pieces Full tray contains 30 pieces

Half Tray

$82.50

Full Tray

$165.00

Marinated boneless and skinless chicken breast. Half tray contains 15 chicken breast Full tray contains 30 chicken breast

Half Tray

$77.00

Full Tray

$152.00
//See public/shared/blizzfullAnalytics.js BLIZZFULL_ANALYTICS.init(null, 'UA-29981188-3', true);