(323) 461-9999
6660 Sunset Blvd. #C
Hollywood CA 90028
Order Online
Get our app!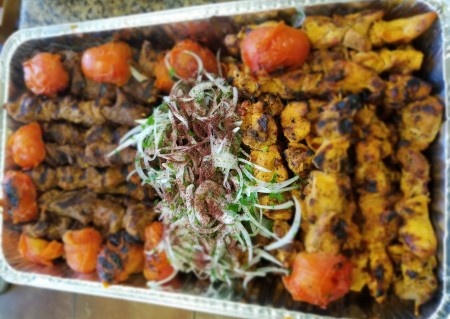 Combination Kabobs
Skewers of beef kabob, chicken kabob, and kafta kabob. Half tray contains 5 kabobs of each kind Full tray contains 10 kabobs of each kind.
---
0 customers Combination Kabobs! Leave a review to let us know what you think.
You may also like
See those other items from Main Courses.
---
A golden fried mixture of garbanzo beans, parsley, and spices. Half tray contains 25 falafel balls Full tray contains 50 falafel balls

Half Tray

$30.00

Full Tray

$60.00

Flame broiled seasoned lamb. Half tray contains 15 kabobs Full tray contains 30 kabobs

Half Tray

$115.00

Full Tray

$230.00

Thinly sliced marinated chicken. Half Tray for 8-10 people. Full Tray for 25-30 people.

Half Tray

$82.00

Full Tray

$162.00
//See public/shared/blizzfullAnalytics.js BLIZZFULL_ANALYTICS.init(null, 'UA-29981188-3', true);